In my opinion, targeting household income in AdWords is one of the ultimate easter eggs.
It's not hard to do, but it's very, very hidden (under the Location targeting in Settings).
Adding household income data does not actually create new targeting in your account, it just creates a new segment you can take action on, so you'll want to set this up as soon as possible.
Follow these step-by-step directions to get up and running with U.S. household income before your next song streams on Spotify.
Then keep reading to see how you can turn this targeting into a real win for your accounts.
1. From the Settings tab / Location, click "+Location"
You'll need to be at the Campaign level, or choose a campaign from the Account Settings tab.
2. Click into "Advanced Search"
3. Select "Location Groups"
You'll need to enter a location. Choose "United States" or a more specific location within the US.
4. Select income tiers and click "add" after each one
5. Save on your way out
You'll need to select Done / Save / Save to get back out to the interface without losing your changes
Make sense of the data
Now for the fun part!
Your targeting is setup – here's what you need to know to make it actionable:
You're targeting high-income or low-income areas in the US, not individual households.
Household income targeting is based  on publicly available data from the US Internal Revenue Service (IRS).<

This targeting is currently available for the United States only.
You're targeting geographic areas, not individual households within those areas.  You can't, for instance, target wealthy households in a poor neighborhood.
Targeting is not retroactive, it goes into effect after you've set it up.
Demographic targeting is an additional layer; it does not by itself change anything, it just gives you more insight.
Once you create the targeting layer, you can start collecting data and change bid adjustments.
But if you add location data today, you won't get data for yesterday or last week. Give your location layers some time to collect data before you make any decisions or adjustments.
Available income targeting doesn't use an even distribution.
Almost always, you'll notice that the bulk of impression and click volume comes from the lower 50% of household income: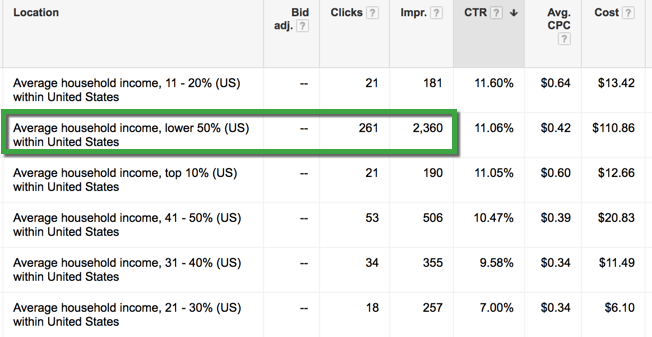 It's important to understand what's going on here. It does not mean that most of your visits are from low household income areas.
The lower 50% bracket includes all areas 50% and below:
The tier itself accounts for 50% of income data, while each of the other tiers contains only 10% each.
You can set bid adjustments as normal. Use common sense.
You can bid any tier up or down, but as always, be smart about it.
The most common scenario you'll probably see is that high-income tiers convert a little better, and justify an increased bid adjustment.
Keep in mind that this targeting is fuzzy, and people of all income levels live in any area, so you probably shouldn't go crazy with bid reductions or increases unless the data tell you otherwise.
Finally, don't be too heavy handed with making changes based on random variations.
If the 31-40% tier has a much higher CPL than both the 20-30% and 50 & below, you'll still want to have a LOT of conversion data before you make a big change to the bids. In cases like this, you're dealing more with randomness and chance than true trends.
Consider adding household income data to your reporting.
Clients and bosses are almost universally fascinated by this type of data. Even if setting up the targeting doesn't yield actionable insights to turn your account around, being able to reference and report on income-level data can be a huge win.
As a final tip, most clients love to hear that their best performing tier is high-income. If that's the case for your account, don't shy away from letting people know what you've found, and that you're bidding up to reach that exclusive market. It can go a lot farther than you'd think in winning confidence of key decision makers.
If you haven't already added Household Income targeting.. what are you waiting for?